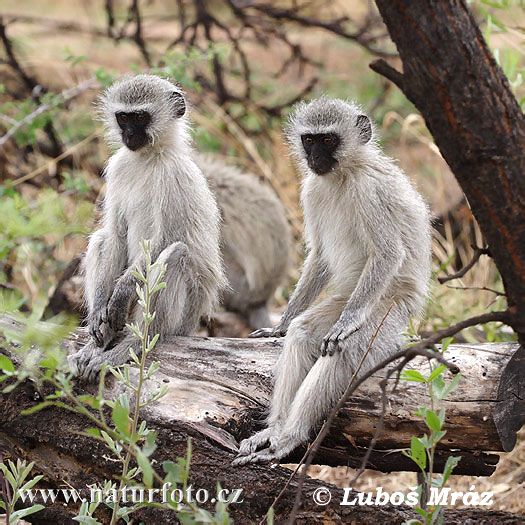 The Vervet
Monkey
is a medium to large sized
monkey
that is primarily found in Eastern
Africa
. The Vervet
Monkey
is thought to be a species of Grivet, another tree-dwelling African
monkey
that has very similar characteristics to the Vervet, along with the Malbrouck which is considered by some to be a sub-species of Vervet
Monkey
. These three
animals
are very closely related but they tend to inhabit territories in slightly different locations and are thought to rarely come into contact with one another. There are currently six recognised sub-species of the Vervet
Monkey
that are generally classified depending on their location, although there is some difference in colouration between them.
BABY VERVET MONKEYS
PAINTING
The Vervet
Monkey
grows to an average of 50cm tall, with a tail that is often longer than the body itself and has a black tip. Their fur tends to be grey or olive in colour (depending on the species) and is lighter on their underside. The hands and feet of the Vervet
Monkey
are black, along with their ears and face which has a white band above it and is also framed by white cheek tufts. The Vervet
Monkey
has long arms and legs which are about the same length to allow this species to walk on all fours when on the ground with ease, and actually makes them quite speedy when running. Males tend to be larger than females and are easily distinguished by their bright blue testicles.
VERVET MONKEY STAMP
The Vervet
Monkey
is found south of the Sahara and is widespread across Eastern
Africa
. They are also found in parts of southern and western
Africa
from Uganda to Ghana but their location is generally dependant on the sub-species. The Vervet
Monkey
inhabits savanna, woodland and forests that tend to be close to water, preferring acacia forests that line rivers and lakes. Vervet
Monkeys
can also be found in mountainous regions up to 1,300 feet providing that there is an adequate supply of both food and water to sustain the population. They are rarely found in more extreme environments such as
deserts
and
rainforests
as these regions simply do not have everything that Vervet
Monkeys
require to successfully survive.
TWO VERVET MONKEYS ARE
GROOMING ANOTHER VERVET
MONKEY
The Vervet
Monkey
is an arboreal
monkey
which means that it spends most of it's time in the safety of the trees. Although they do venture down to the ground in search of both food and water, Vervet
Monkeys
rarely go further than 450 meters from the trees, which helps to protect them from
predators
. They are
diurnal
animals
spending the days foraging for food and then rest at night. The Vervet
Monkey
is a very sociable
animal
inhabiting territories in troops that can contain between 10 and 50 individuals, depending on the location and how ample the food supply is. These troops are comprised of adult females and their young, with males wandering between different troops to both socialise and mate.
The Vervet
Monkey
is not usually able to reproduce until they are about five years old, although their age of sexual maturity is known to vary slightly and may be dependent on how much food they have access too. After about 5 and a half months, females give birth to a single infant which is cleaned by it's mother at birth, and clings to her stomach during the first week or so. Vervet
Monkey
babies quickly develop strong social bonds with other
monkeys
and are known to begin interacting and playing with them by the time they are a month old. They have pink faces and black fur and don't tend to develop their adult colouration until they are a few months old. Vervet
Monkey
offspring suckle on their mother's milk until they are nearly four months old and start to eat softer vegetation, but they are not fully weaned until they are about a year old.
VERVET MONKEY TEACHING TO
IT,LITTLE KID
Despite the fact that the Vervet
Monkey
tends to reach sexual maturity after a number of years in the wild, sexual maturity in captivity tends to occur much sooner at an average age of two years old. They are incredibly well adapted to their surrounding environments as they can jump and climb well when in the trees and are pretty speedy on the ground, along with being excellent swimmers. Younger females in the troop that are not yet mature, often show a keen interest in the offspring of adult females and assist them with grooming and caring for their young. They are also known to love to hold them, making it not wonder that social bonds within the troop particularly between relatives, often last for life.