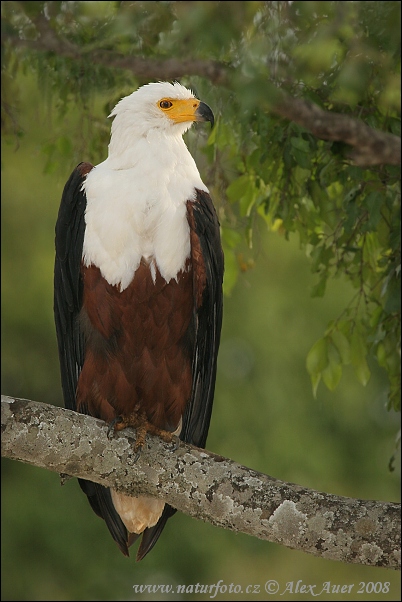 The
African Fish Eagle
(
Haliaeetus vocifer
)
or – to distinguish it from the true
fish eagles
(
Ichthyophaga
), the
African Sea Eagle
– is a large species of
eagle
that is found throughout
sub-Saharan Africa
wherever large bodies of open water occur that have an abundant food supply. It is the
national bird
of
Zimbabwe
and
Zambia
and
South Sudan
.T
his species may resemble the
Bald Eagle
in appearance; though related, each species occurs on different continents, with the Bald Eagle being resident in
North America

.
As a result of its large range, it is known in many languages.
Examples of names include:
Visarend
in
Afrikaans
;
Aigle Pêcheur
in
French
;
Hungwe
in
Shona
, and
Inkwazi
in
Zulu
.
THIS IS A PAINTING OF AN
AFRICAN FISH EAGLE ON FLIGHT
The African Fish Eagle is a species placed in the genus
Haliaeetus
(
sea eagles
). The African Fish Eagle's closest relative appears to be the
critically

endangered

Madagascar Fish Eagle
(
H. vociferoides
). Like all sea eagle
species pairs
, this one consists of a white-headed species (the African Fish Eagle) and a tan-headed one. These are an ancient lineage of sea eagles, and as such have dark talons, beaks, and eyes.
Both species have at least partially white tails even as juveniles. The scientific name is derived from
Haliaeetus
,
New Latin
for "sea eagle" (from the
Ancient Greek
haliaetos
), and
vocifer
is derived from its original genus name, so named by the French naturalist
François Levaillant
, who called it 'the vociferous one'.
AFRICAN FISH EAGLE FIGHTING WITH TWO OSPREYS
The African Fish Eagle is a large bird, and the female, at 3.2-3.6 kg (7-8 lbs) is larger than the male, at 2-2.5 kg (4.4-5.5 lbs). This is typical of
sexual dimorphism
in birds of prey. Males usually have a wingspan of about 2 m (6 feet), while females have wingspans of 2.4 m (8 feet). The body length is 63–75 cm (25–30 in). The adult is very distinctive in appearance with a mostly brown body and large, powerful, black wings. The head, breast, and tail of African Fish Eagles are snow white, with the exception of the featherless face, which is yellow. The eyes are dark brown in colour. The hook-shaped beak, ideal for a carnivorous lifestyle, is yellow with a black tip. The
plumage
of the juvenile is brown in color and the eyes are paler compared to the adult. The feet have rough soles and are equipped with powerful talons in order to enable the eagle to grasp slippery aquatic prey. While this species mainly subsists on fish, it is opportunistic and may take a wider variety of prey such as waterbirds. Its distinctive cry is, for many, evocative of the spirit or essence of Africa.
The call, shriller when uttered by males, is a
weee-ah, hyo-hyo
or a
heee-ah, heeah-heeah.
This species is still quite common near freshwater lakes, reservoirs, and rivers, although they can sometimes be found near the coast at the mouths of rivers or lagoons.
The African Fish Eagle is absent from arid areas with little surface water.
THIS IS THE PICTURE OF AN AFRICAN FISH EAGLE
FEEDING IT'S BABY!
Breeding season for African Fish Eagles is during the
dry season
, when water levels are low. African Fish Eagles are believed to be
monogamous
- in other words, they mate for life.
Pairs will often maintain two or more nests, which they will frequently re-use. Because nests are re-used and built upon over the years the nests can grow to be quite large, some reaching 2m (six feet) across and 1.2 m (4 feet) deep. The nests are placed in a large tree and built mostly of sticks and other pieces of wood.
The female lays 1 to 3 eggs, which are primarily white with a few reddish speckles. Incubation is mostly done by the female, but the male will incubate when the female leaves to hunt. Incubation lasts for 42 to 45 days before the chicks hatch. The eggs will often hatch a few days apart, and the eldest chick will usually kill any younger chicks; this tactic is known as
siblicide
and is also found in other birds of prey. Fledging lasts for 70 to 75 days, and after about 8 weeks the chick is capable of feeding itself and will usually begin to venture outside of the nest 2 weeks later.
The African Fish Eagle feeds mainly on
fish
, which, upon spotting a potential prey item from a perch in a tree, it will swoop down upon and snatch the prey from the water with its large clawed talons. The eagle will then fly back to its perch to eat its catch.