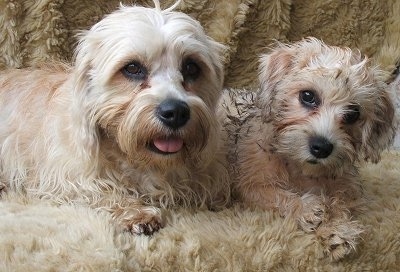 A
Dandie Dinmont Terrier
is a small Scottish
breed
of
dog
in the
terrier
family. The breed has a very long body, short legs, and a distinctive "top-knot" of hair on the head. A character in Sir
Walter Scott
's novel
Guy Mannering
has lent the name to the breed, with "Dandie Dinmont" thought to be based on James Davidson, who is credited as being the "father" of the modern breed. Davidson's dogs descended from earlier terrier owning families, including the Allans of
Holystone, Northumberland
.
There are three breed clubs in the UK supporting the breed, although it is registered as a
Vulnerable Native Breed
by
the Kennel Club
due to its low number of puppy registrations on a yearly basis. The breed is friendly, but tough and is suitable for interaction with older children. There are no breed specific health concerns, but they can be affected by spinal issues due to their elongated body and the breed is affected by
canine cancer
at a higher than average rate.
THIS IS A PUP OF IT'S BREED.
The breed has short legs, with an elongated body. Unusually among Scottish terrier breeds, it has pendulous ears. The neck is muscular, having developed from the breed's use against larger game.The typical height at the
withers
is 8–11 inches (20–28 cm), and they can weigh anywhere between 18–24 pounds (8.2–10.9 kg). While the Dandie generally is a hardy breed, it may have issue climbing stairs.They have a silky coat which forms a "topknot" on top of the dog's head.The Dandie Dinmont Terrier has a similar body shape to the Skye Terrier, but the Skye's coat is thicker and longer.
The coat comes in two colour ranges, either "pepper" or "mustard". Pepper ranges from a dark blueish black through to a very light silvery gray, while the mustard can vary from reddish browns to a fawn where the head appears to be almost white. Typically, the legs and feet are of a darker colour with the lighter colour on the body slowly blending into that on the legs.The depth of the coat can reach up to 2 inches (5.1 cm). The colour of the coat is usually set by the time the dog reaches eight months of age, but the Dandie Dinmont Terrier will continue to mature physically until around two years old.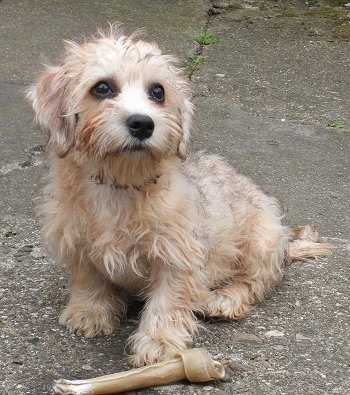 The breed is tough but usually friendly, and are suitable for older children.
It makes both a good companion and a guard dog, but are among the most docile of the terrier breeds and are usually quite undemanding of their owners.
However they are known for their ability to dig large holes in a short space of time.
They can be trained to be good with cats, but should not be trusted around smaller animals such as hamsters or rats.
They are described as being "very game", in that they are prone to challenging other animals including foxes, and in some cases other dogs.
Due to the breed's elongated body, there can be back issues within the breed specifically with
intervertebral discs
in the dog's backs. These discs can sometimes "slip" resulting in
spinal disc herniation
. Any symptoms relating to this can depend entirely on what part of the dog's back is affected, and can range to paralysis with loss of bladder and bowel control in the worst cases.
Following work by the breed clubs to ensure that any reoccurring health issues are dealt with, there are no especially common conditions affecting the Dandie Dinmont Terrier. However, minor issues affecting the breed can include hypothyroidism, primary closed angle glaucoma and Cushing's syndrome. In order to combat glaucoma in the breed, the breed clubs recommend that Dandies should have a procedure called a gonioscopy conducted on them at regular intervals throughout their lives. The Dandie is also at slightly higher risk of canine cancer than average. The average life expectancy of a Dandie Dinmont Terrier is 11–13 years.