Canaan dog
,
is a breed of
pariah dog
, and has been part of the Middle Eastern landscape for thousands of years. It may have existed in the eastern Mediterranean seaboard for millennia, as referenced in ancient carvings and drawings. There are 2,000 to 3,000 Canaan dogs across the world, mostly in Europe and North America.
It is also the national dog of Israel.
The Canaan dog began in ancient times as a primitive feral in ancient Canaan, where the
Canaanites
and Israelites lived, roughly corresponding to the region encompassing modern-day
IsraelLebanon
, and the western parts of
Jordan
.
, Palestine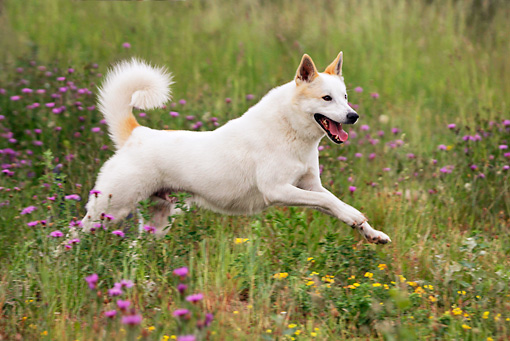 THIS IS A CANAAN DOG RUNNING IN A FIELD OF FLOWERS
The Canaan dog is a typical primitive dog in appearance. It is a medium-sized square built dog, with a wedge-shaped head, erect and low set ears with a broad base and rounded tips. Its outer coat is dense, harsh and straight of short to medium-length. The undercoat should be close and profuse according to season. Color ranges from black to cream and all shades of brown and red between, usually with small white markings, or all white with colour patches. Spotting of all kinds is permitted, as well as white or
black masks
.
Rudolphina Menzel
, an immigrant to
Mandate Palestine
from Austria, having studied the
desert
free living dogs and the variations in appearances, classified these canines into four types: 1) heavy, sheepdog appearance, 2) dingo-like appearance, 3) Border Collie appearance, 4) Greyhound appearance.
Type varies somewhat between the lines of other Canaan dogs and those found in Israel and the rest of the world.
THIS BREED LOVES CHILDREN!
Canaan dogs have a strong survival
instinct
. They are quick to react and wary of strangers, and will alert to any disturbances with prompt
barking
, thus making them excellent
watchdogs
. Though defensive, they are not aggressive and are very good with children within the family, but may be wary of other children or defensive when your child is playing with another child. They are intelligent and learn quickly, but may get bored with repetitive exercises or ignore commands if they find something of more interest.
Canaan Dogs can compete in
dog agility
trials,
obedience
,
showmanship
,
flyball
,
tracking
, and
herding
events.
Herding
instincts and trainability can be measured at noncompetitive herding tests. Canaans exhibiting basic herding instincts can be trained to compete in herding trials.